Boost your sales
with our Academy
Identify, generate and meet your B2B leads through

your multichannel prospecting campaigns
I access the Academy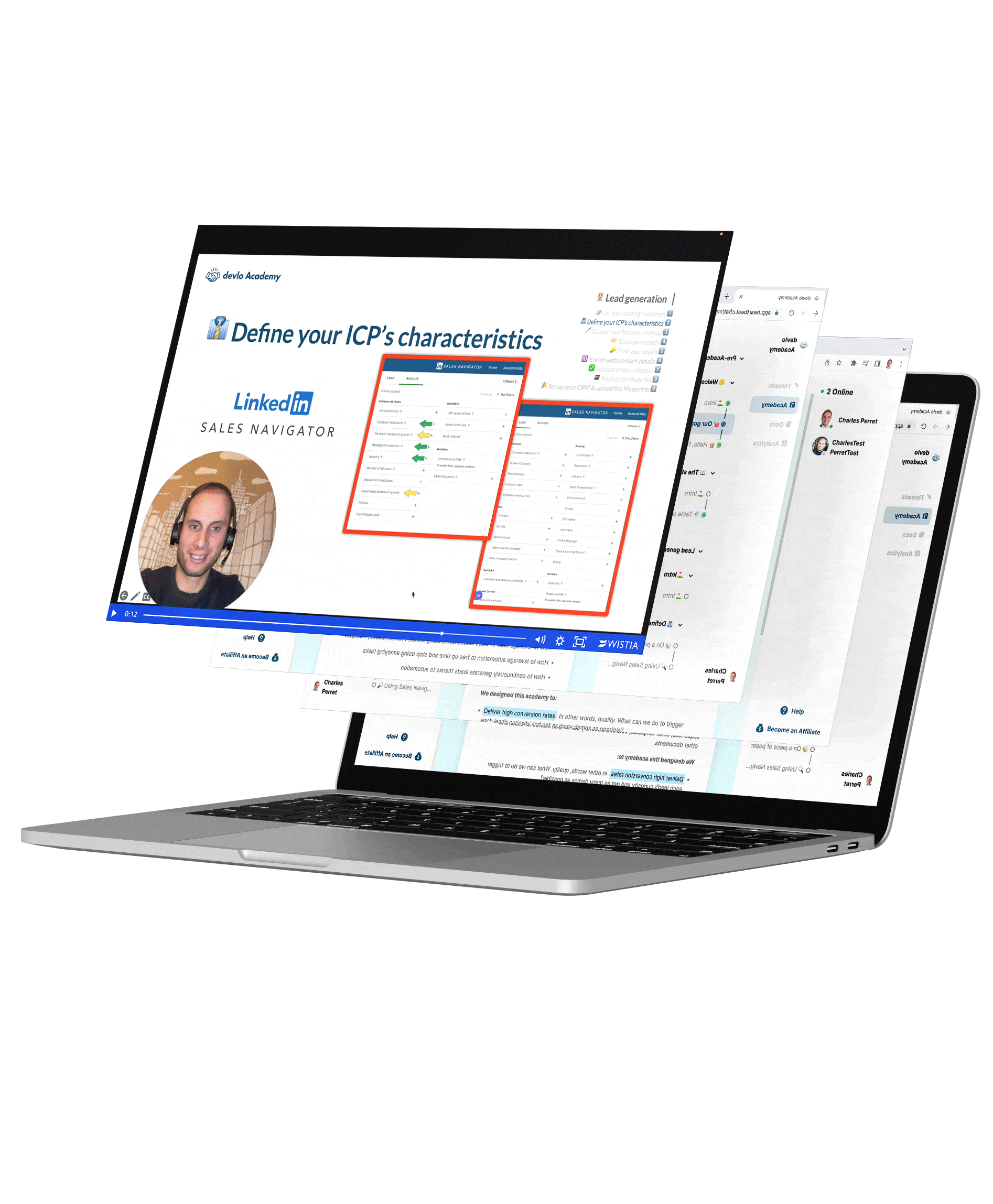 Reach your KPIs. Get more demos
qualified
Discover each step in a detailed and complete way
Free First Chapter: contact your prospects on LinkedIn
Set up your automated prospecting campaign on LinkedIn
no cost for up to 400 invitations per month
Our clients met with these companies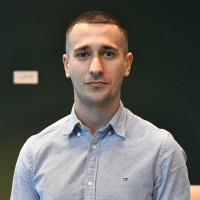 Investing in the Academy for B2B lead generation and booking qualified meetings was among the best decisions I've made as a sales leader. The results speak for themselves – I've been able to book 10x more qualified meetings with potential customers since implementing the strategies I learned in the Academy.
The investment has paid off in terms of increased revenue and has given me a competitive edge in the market. I can confidently pitch our product and services to prospects, knowing that I have a solid system in place for generating leads and booking effective meetings.
For any B2B sales leader looking to up their game and stay ahead of the competition, I highly recommend the Academy. The ROI is simply too good to pass up, and you'll definitely experience FOMO if you don't take advantage of this opportunity.
Jurica Karlo Welina – Business Development Manager – InsiderCX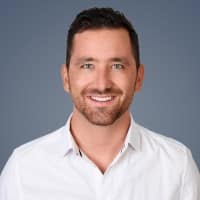 I recently took an online course on generating B2B leads and booking qualified meetings with potential customers, and it was a game-changer for me as a sales leader. The course provided me with practical techniques and strategies that I could immediately apply to my sales process.
One thing that I really appreciated about the course was how down-to-earth and easy to understand the content was. It wasn't filled with complex jargon or unrealistic scenarios. Instead, the course was focused on providing real-world examples and actionable steps that I could take to improve my lead generation and meeting booking skills.
Since taking the course, I've seen a significant increase in the number of qualified meetings I've been able to book with potential customers. And not only that, but the meetings have been much more productive and effective in moving prospects through the sales funnel.
I highly recommend this course to any B2B sales leader looking to improve their lead generation and meeting booking skills.
Maxime Dumont – Mind-shift activator– Mind-shifters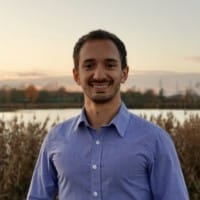 Successfully completed the devlo Academy. It covers everything needed to implement fully automated outbound campaigns to promote our services. Blown away by the knowledge & guidelines provided, and I learned a lot from the in-depth tutorials and case studies.
Our team was able to save a lot of time/money by leveraging the strategies and tools presented in the Academy. I now have a system in place that allows us to reach out to many prospects without needing to hire additional staff or spend hours manually sending emails.
Overall, I highly recommend this Academy. The ROI is undeniable, and the knowledge and guidance are invaluable.
Fabio Oliva –  Founder – Workflowed
Video tutorials
Transform your B2B business development through 50 tutorials. 2,5 hours of videos to discover all the steps from A to Z and be autonomous.
dedicated platform
Complete your training from our dedicated platform accessible at all times. From your web browser, on the OS app of your Mac, iOS of your iPhone, or from your Android. 
RESOURCES
Access all ready-to-use resources, including email permutator, scripts for cold calls, Excel/Google sheet script, sequence templates, sample responses, and more.
New releases
Stay up-to-date with new methods, trends and tools. Your lifetime access.

Experts
Find answers to your questions from our experts. Each chapter has its own discussion thread where you can ask your questions, validate the leads at your disposal and make the best decision.
NEW ENCOUNTERS
Meet other Academy members. Together, we form a community that supports each other with the goal of scheduling more qualified appointments.
Case studies
Discover several case studies inspired by the prospecting campaigns managed by our agency. Our clients operate in the fields of cybersecurity, HR, sustainable development, merchandising, video production, real estate, L&D and more.
Premium webinars
Participate in weekly webinars where community members share case studies to refine their lead generation, sequencing, and campaigns.
Join the most actionable and engaging Academy.
Let's go through your needs and goals. And let's plan together how this Academy can help you achieve them
Accelerate your sales development.
You are guided step by step to outreach your leads by email, phone calls and LinkedIn
Results that speak for themselves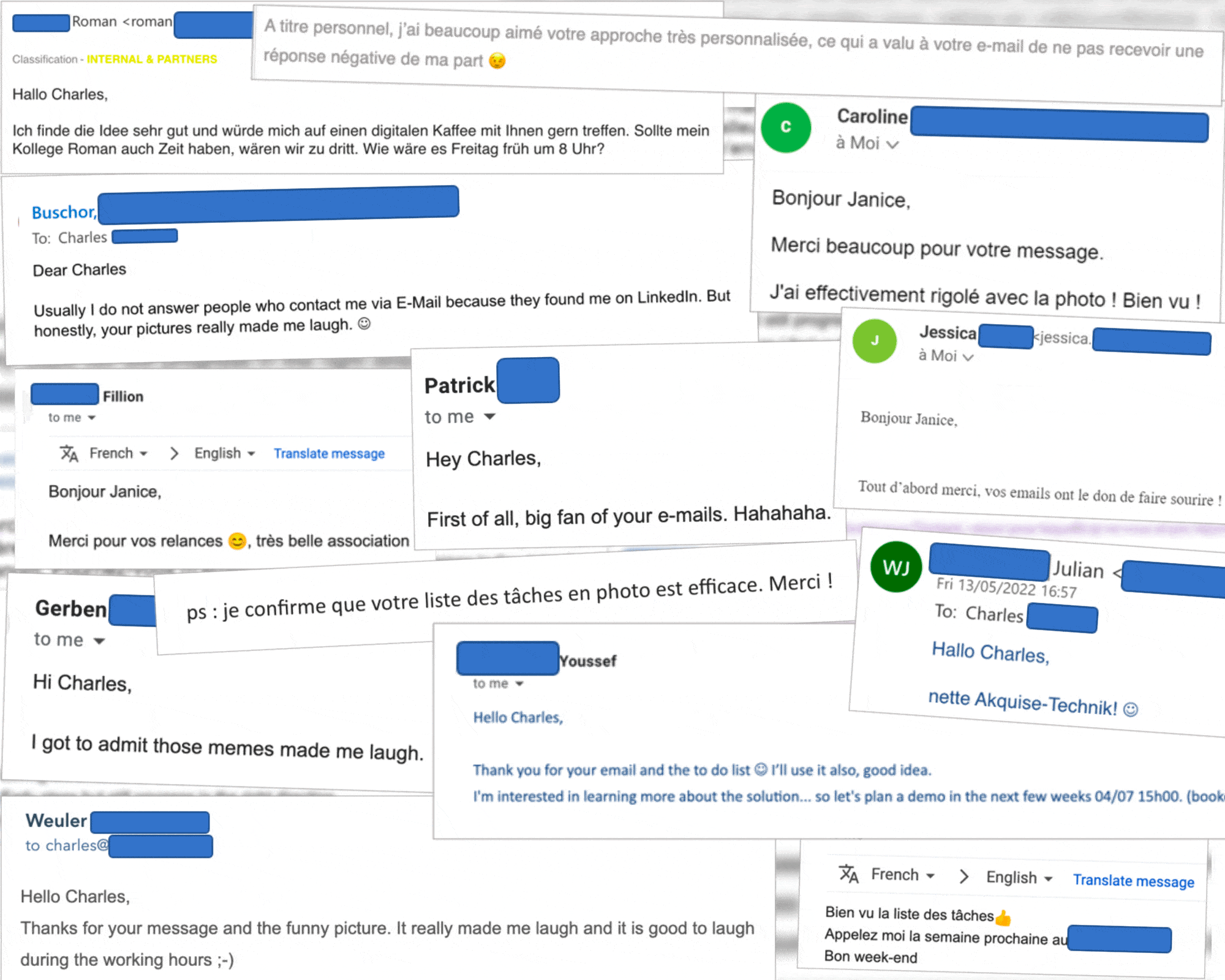 What are the tools presented and their cost?
There are hundreds of tools on the market. Through this training, you will learn how to precisely use the solutions that bring the most results, including Sales Navigator ($100/m), lemlist ($100/m), Phantombuster ($30/m), HubSpot (0$), and Bouncer ($30 for 5000 credits), Excel/Google sheet.
What is a multi-channel prospecting campaign?
A multichannel cold outreach is a sequence of touches by email, phone call and LinkedIn to contact your leads. Using this approach, you increase your chances to reach your leads, and stand out from your competitors.
Why is b2b sales prospecting a good approach?
It's the most economical, repeatable and quickest approach to get in direct contact with potential clients. In addition, you are able to target very precisely who you contact.
Who is this Academy for?
To anyone who sells products or services to other businesses. If you are a Sales Development Representative, Business Development Representative, business developer, agency manager, entrepreneur, and you want to meet more qualified B2B prospects, you will be bluffed.
Is this investment worth it?
You will boost your business and cover your investment in normally only one sale. In addition, you will increase your knowledge and skills in B2B sales prospecting. You will improve your conversion rates: open rate, click rate, response rate and number of qualified leads.
Why choose the devlo Academy?
Since 2020, our sales development agency has helped dozens of different clients. We specialize in lead generation, outreach and B2B lead qualification. This Academy is the result of countless hours of research, brainstorming, and iteration of new ideas.
WE DON'T HAVE ANYTHING IN PLACE YET, IS THAT A PROBLEM?
No problem, you will discover all the necessary steps to set up your own commercial prospecting campaigns.
Discover step by step our ultra-complete methodology. And one that has proven itself
If you are an SDR, BDR, business developer, agency manager, or entrepreneur, and you want to meet more qualified B2B prospects, take advantage of our
Special offer at USD 4,999.-